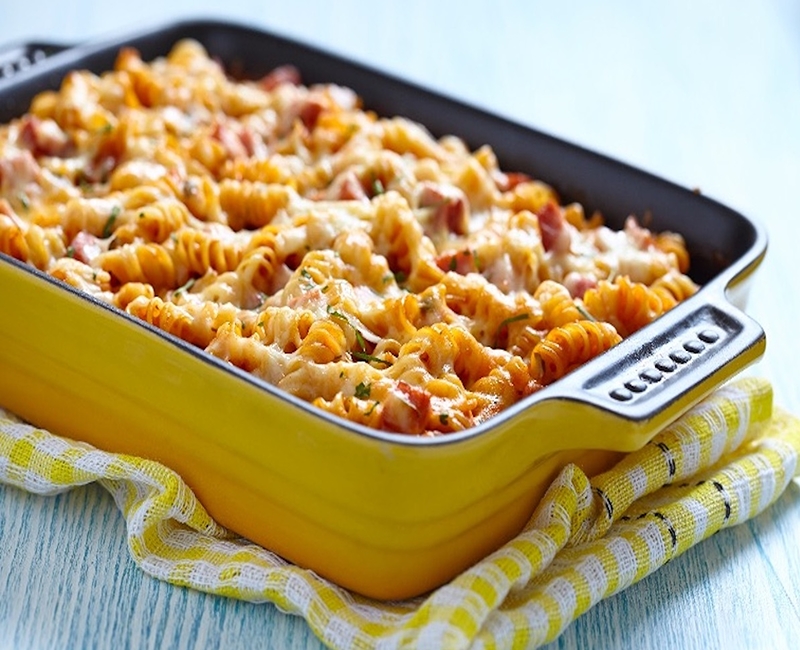 Serves 4
This pasta bake is great in the first trimester when all you want is something comforting to eat.
It's also a great way of adding fish and vegetables to your diet, especially if you're experiencing sickness, as the ingredients can be well hidden but still provide you with valuable nutrients!
Ingredients
120g Wholewheat pasta (penne or fusilli generally works best)
25g Unsalted butter
25g Plain flour
175ml Whole milk (or alternative)
125g Cheddar cheese (grated)
2 tins Tuna steak
½ tin Chopped tomatoes

20g Breadcrumbs
Possible additions:
Veg. Mix of any vegetables you like! (frozen or fresh) Examples: spinach, peas, sweetcorn, finely chopped onion or courgette, peppers …
3 Anchovy fillets*
½ tin Green or puy lentils**

1 tbsp Parmesan cheese (mix with breadcrumbs)
Tip: if you're feeling nauseous and do not wish to find flakes of fish or bits of vegetable in your food, blitz them in a blender with the sauce..
Method
Preheat oven to 160 degrees (fan)
Boil pasta until al-dente (2 minutes less than packet suggests)
Make a white sauce:

Melt the butter in a pan (medium heat)
Stir in the plain flour until it becomes a smooth paste
Gradually add the milk, constantly stirring until all is mixed

Remove the sauce from the heat and stir in ¾ of the Cheddar cheese
Drain the cooked pasta and mix with the sauce
Add the tuna, tinned tomatoes and any other ingredient you have decided to add (nb. if you are adding onion, you may wish to gently fry this in a little olive oil before adding)
Transfer the mix to a baking dish and top with the remaining grated cheddar, breadcrumbs and parmesan (if using) ( if you are preparing this dish in advance, do not add the breadcrumbs until transferring to the oven otherwise they will go soggy)
Bake for 20-30 minutes, until the top has turned golden brown
Great served with a fresh, crunchy side-salad.
Also a great leftovers dish and can be eaten hot or cold the next day!
*Anchovies are an oily fish and great source of omega-3.  If you mix them in so that they break-down you can barely taste them in this dish which is useful if you're struggling with fishy smells/flavours!
** Lentils will increase the fibre content of this dish.