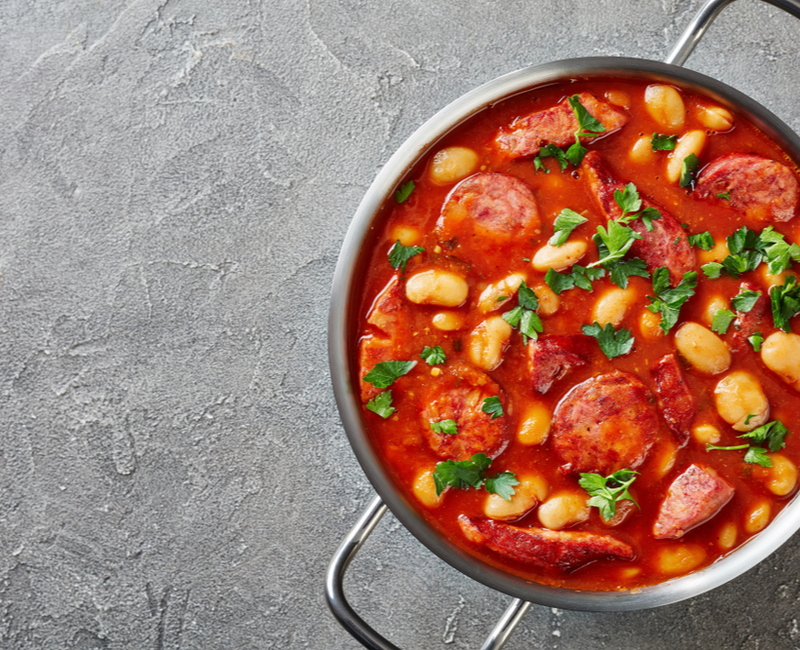 Serves 4
I love a stew as you can generally add in as many extra / different ingredients as you like!
You can use any variety of beans here or even substitute for lentils.
In terms of vegetables, you can use whatever you like really.  Don't like spinach? Use cabbage instead.  If you want to bulk it out a bit more then you can add in some sweet potato chunks.  Yum!
Ingredients
1 red onion (finely chopped)
2 garlic cloves (finely chopped/crushed)
150g chorizo (chopped into bitesize pieces)
1 yellow bell pepper (chopped into bitesize pieces)
100g spinach
400g tinned beans (e.g. butterbeans, chickpeas, kidney beans)
400g tinned chopped tomatoes
Pesto (ideally fresh – homemade or shop-bought)      AND/OR
Fresh chopped herbs (e.g. parsley, basil, coriander)
Method
Gently fry the chorizo in a pan (no oil needed as chorizo has plenty of its own)
Once the oils have been released from the chorizo, add the red onion and garlic and stir until the onion has softened
Add the chopped tomatoes and stir through
Add the yellow bell pepper and stir
Once the pepper has softened and the sauce is at your desired consistency, add the beans and spinach then mix through
Serve with a generous drizzle of pesto or a sprinkling of your favourite fresh herbs!