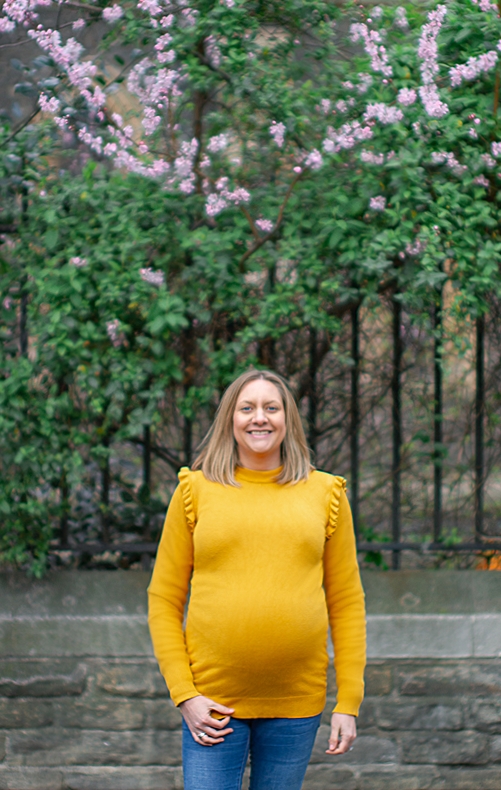 Joanna
BA(Hons), DipION, MBANT, CNHC

Registered Nutritionist

Registered Nutritional Therapist
Hi, I'm Joanna, a registered nutritionist and nutritional therapy practitioner.
I am passionate about supporting health through nutrition and embrace the concept of small, simple changes to help you (and your family) live a healthier life.
As a busy mum, and from my experience of working with and speaking to many other people leading hectic lives, I understand how important nutrition is in helping you to feel more energised and in tune with your body.  Symptoms you experience (perhaps relating to menstrual cycles, parenting, mid-life and perimenopause, etc.) can be frustrating and debilitating but advice and support that I, and other networks, can provide will prove to be invaluable both for your mental and physiological health.  I've seen, time and time again, how applying small changes, consistently, over time can have a BIG impact.
I love chatting with everyone about food and health because we all have such differing views and opinions as to what is healthy and what works well (or doesn't work well!) for us and our families.  I am grateful that, within my role as a nutritionist, I am able to engage with a wide variety of people on all types of topics ranging from basic nutrition with pre-schoolers in a nursery setting to how nutrition impacts our everyday lives in adult group sessions and more personalised, individual 1:1 consultations.
Health and wellbeing is not simply about food and optimising diet.  It's looking at you and your life as a whole.  Your possibilities for change but also your personal limitations and circumstances.  I can offer you sustainable dietary and lifestyle changes that can help you live a healthier life; breaking them down into manageable 'bitesize' pieces to suit your personal needs.
My passion is to nourish, educate and empower you to feel comfortable and confident with your nutrition and lifestyle choices.
About Nutritional Therapy
Nutritional Therapy is about more than just food
So, what is Nutritional Therapy and what does a Nutritional Therapist do?  Well, I work with clients using the functional medicine model which means that I consider your wellbeing from a holistic (whole-being) point of view.  For example, if you are experiencing insomnia, we will look at how internal and external factors (e.g. diet and lifestyle choices) may be impacting your ability to fall, and remain, asleep.
As a Nutritional Therapist, I work with you to uncover all aspects of your health and get to the root cause of any troubling issues you may be experiencing.  You might find it odd at first that I ask questions around your personal history but, in my experience, all questions are relevant (whether it is to allow for consideration or to rule things out) and all information you provide is kept completely confidential in line with my responsibilities as a therapist.
It might be that you do not have any particular concerns but want to ensure that you and your family are getting key nutrients, at the right stages, to fit your personal circumstances and help you all feel the best you can.  I'm here for that too.
As illustrated in this BANT infographic, all aspects of your life – from external environment to internal gut function – can impact on your wellbeing and it is these areas that we seek to optimise in Nutritional Therapy.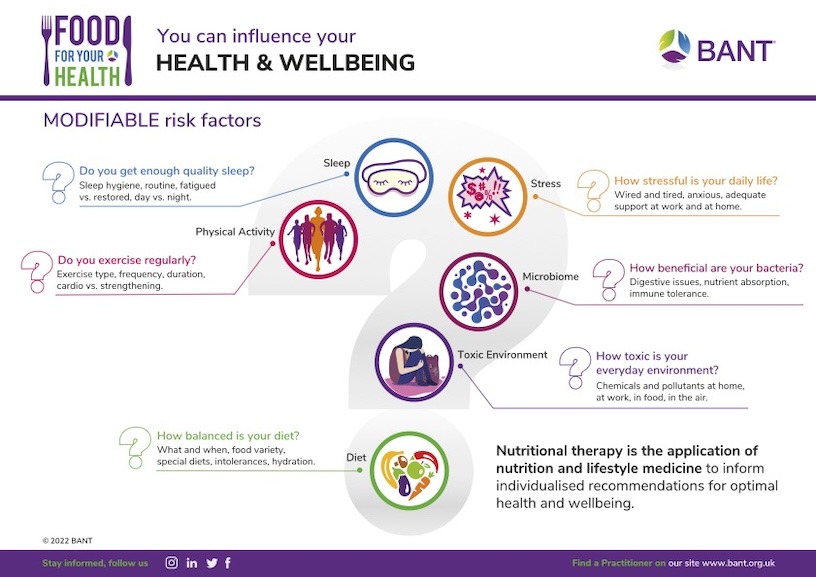 About